Bring Your Dad to School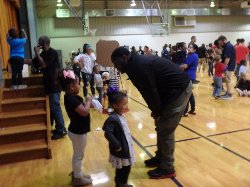 What

Bring Your Dad to School

When

3/27/2019, 9:00 AM

–

10:00 AM

Where

North ELC
This event supports the important of a fathers impact he has on his children social, emotional, and educational.
Due to the great response last year, we will be separating the 3 year old and 4 year old classes to a two day event.
Tuesday, March 26 will be the 3 year old class;
Wednesday, March 27, will be the 4 year old class.
Our male guest will eat breakfast from 9:00 a.m.then go get their child to play basketball from 9:30-10:00 a.m.
If you have a child in both 3 and 4 year old classes you may just pick one day and bring them both for hoops.
Please per-register your date so that we can prepare enough food, 882-5434.
Copy to Google Calendar
•
Download iCal Event